vabble's Status: Updates from the Last Quarter and Beyond
Company updates from the past 3 months
We're approaching a very exciting time at vabble: all the team's hard work over the past year is starting to come together and we'll be processing transactions this month.
With that in mind, we wanted to share anupdate of what we've been working on for the last few months, plus what's next on the horizon.
We hope that you'll be as excited as we are when you've finished reading this update!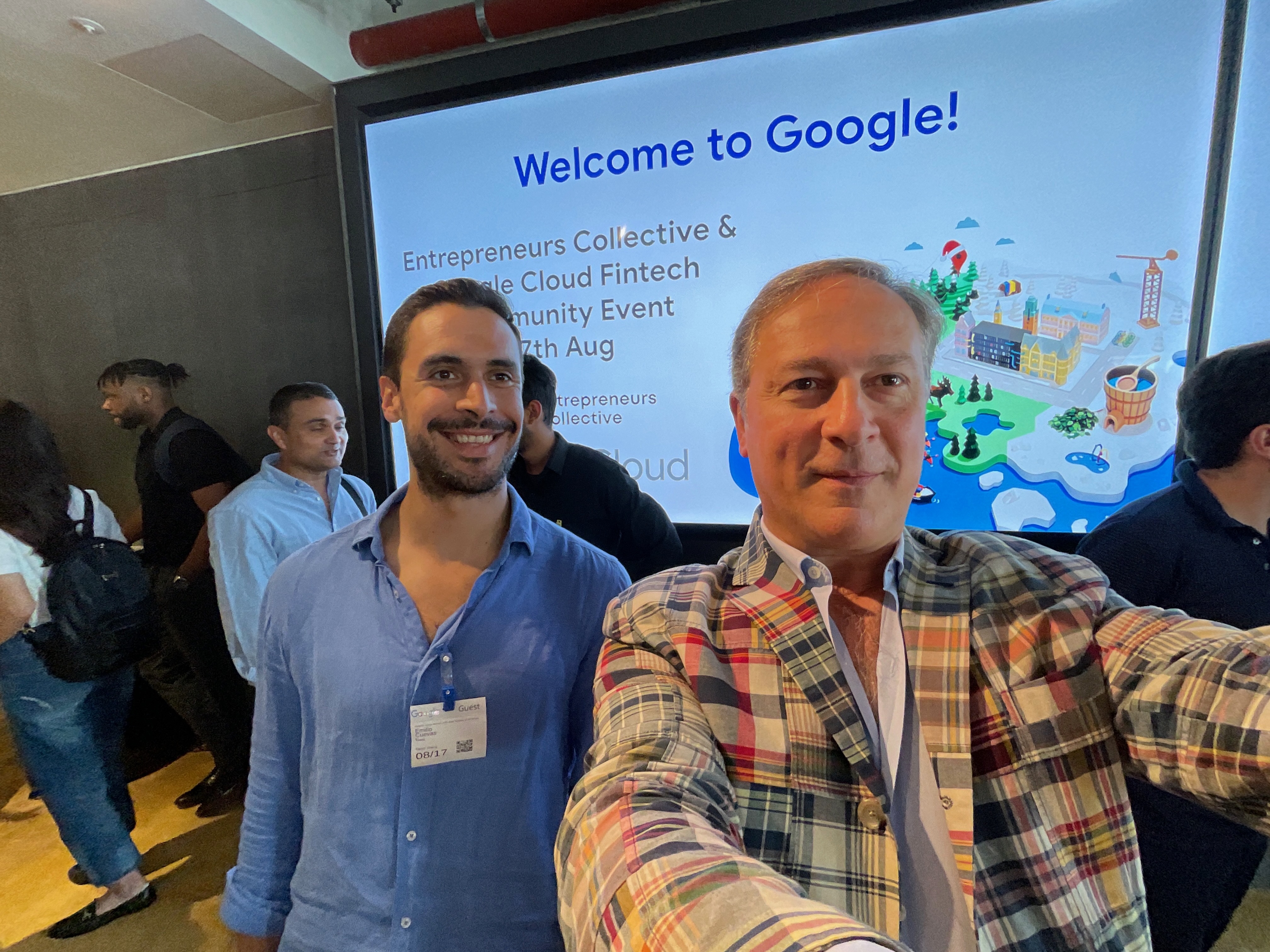 To learn more about investing in vabble, email investors@vabble.io
What's been happening at vabble over the past 3 months
Here's a summary of some of the important changes and updates from the past few months:
Team: Simon Knowles joined vabble as partner and head of technology
The main update regarding the vabble team has been Simon Knowles, former MD Head of EMEA Development at Goldman Sachs Asset Management, joining as partner and head of technology at vabble.
Simon's involvement goes beyond being an investor. He brings invaluable technical expertise and enhances our credibility with tech investors – and he has already attracted a new type of investor interest, that of tech investors.
Simon joined vabble for three key reasons:
Timing: As Simon says himself: "[We're] at the crossroads of a lot of different macro themes that are happening in the market." There's an increased demand from institutional investors for private credit assets and investments with an environmental, social and governance overlay. There's also a greater demand for trade financing for small and medium business, plus those in emerging markets, and a general increase in global trade off the back of the pandemic.
Technology: The great thing about vabble's technology is that it's not trying to solve new problems. "For me as a technologist, that's perfect, because Pablo already knows exactly what capabilities he wants to build," Simon said. "You're not going to stray too far from that to be able to build [the platform] and scale up. You've got the starting point – it's not just some wild idea that needs to be formulated." vabble has a highly motivated and collaborative tech team with a well designed data model and modern tech stack, and a strong focus on creating a neobank-like experience.
Company: Simon also called out the reputation, connections and years of experience of the senior leadership team, particularly Pablo, Derek Hudson (co-founder, director and Chief Commercial Officer), and Francesco Baldanza (director and strategic investor). "They know the legal process, they know the framework and they know how to get these right," Simon said. "I put a lot of faith in the founding fathers of vabble."
To find out in more depth why Simon joined vabble, read our article: vabble FinTech attracts Goldman Sachs Tech MD veteran. "It's just the right time for this".
Besides our new joiner, the team is solid and we're very pleased to say there's been no churn. We've already written an article about our team and culture, and you can read that here: vabble's unique culture DNA: transparency and talent.
"A good culture is being able to give direction to that competitive drive some people have, and direct it towards the good of the whole," Pablo said. "We want to allow space for that competitiveness to be expressed in the context of the team, and not bash anyone in the process."
A part of the team is based in Argentina, local to the Latam market, in the same time zone as the clients we're working with. They link in with on-the-ground bankers in Peru and Ecuador who have relationships with exporters. Others are based in London, New York, and elsewhere in Europe.
"We want to make an impact," Pablo said. "We think that the work we're doing in emerging markets is great because it's going to allow us to build a valuable company. And the value of the company can be measured in wealth, but more than wealth – it can also be measured in the wellbeing of the people that are impacted or associated or touched by the venture."
Product: launching at the end of August
Our product has undergone further changes and improvements and we are ready to start processing transactions at the end of this month of August.
In the past year or so the team has been mainly working on development and legal infrastructure, to support the commercial team who have been in close contact with the local markets, to address the sizable latent demand for vabble's offering. We've greatly enhanced our platform's cybersecurity, reaching state-of-the-art levels with robust defences, and we've made substantial refinements and upgrades to the UX and UI, which will support the activation of the commercial side.
We continued working closely with Goldman Sachs Asset Management, taking their input on the design of the end to end process, whom we expect will be ready to start operations soon.
Here are three of the main product developments from the past quarter:
1. JPMorgan API integration: automatic reconciliation and automatic payments at the click of a button
This month – August 2023 – marks a business milestone for vabble as we start processing transactions. We'll start small, testing our end to end operations with a small invoices to make sure the whole process works as it should. Thorough testing is vital to ensure we are fault free with live transactions.
One of the main concerns for investors was how we would deal with reconciliation. This is because with our business model there are at least five transactions per invoice:
The investor gives the money to vabble to fund an invoice
vabble pays a large portion of the invoice, minus interest costs, to the exporter
Later, the importer pays the invoice amount to vabble
vabble pays back the investor
vabble pays the invoice balance to the exporter
The tech team at vabble has been working with other tech teams at world leading financial and marketplace companies to understand how best to manage all these transactions. That's where we've received the support of partners such as JPMorgan. With a solution enabled by their API integration, the team at vabble can handle reconciliation, payments, and collections in a largely automatic way. Buyers (and investors) get a real time view of every transaction via a payment reference. This allows for automatic reconciliation and payments without users having to leave the vabble platform. All of this is done through the API, requiring no manual file uploads – just the click of a button, given certain conditions are met.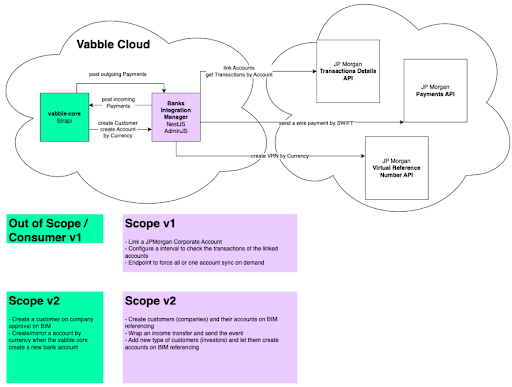 2. Bulk upload invoices: save time by uploading up to 100 invoices in one go
Another new feature allows exporters to upload invoices in bulk using a CSV or Excel file. Previously exporters could only upload invoices one at a time, using a wizard and following a number of steps:
Give some information about the invoice, such as the invoice number, amount, shipment date, due date, etc
Upload the document
Sign the buyer notification and payment instructions
Then you would repeat the process for as many invoices as you wanted to upload.
After some customer research, usage patterns, and speaking to test customers, we realised this was a pain point due to how time consuming it made the process.
In the new release, it's now possible to upload up to 100 invoices all at once using a CSV or Excel file containing all the relevant information about the invoice.
You can then easily adjust this in the vabble platform – if the columns in your file don't quite match up to the platform, for example – and you can add any missing information too.
Watch our video on how exporters can do this via vabble: vabble Bulk Upload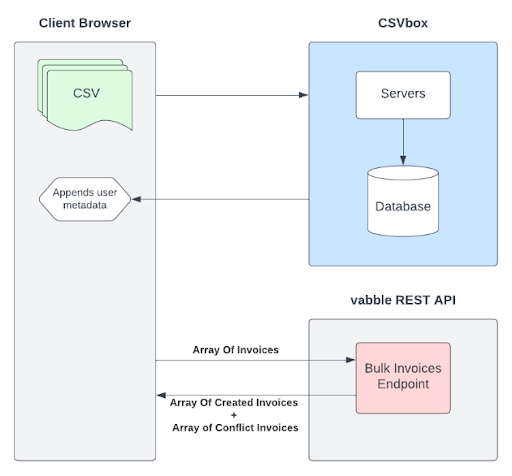 3. New onboarding process: easily join the vabble platform and get started in a few minutes
Another big user experience improvement to our platform is a new onboarding process and interactive wizard. Previously, onboarding had more steps and required inputting a lot of information manually.
The new process is much improved making it quicker and easier to get up and running on the vabble platform.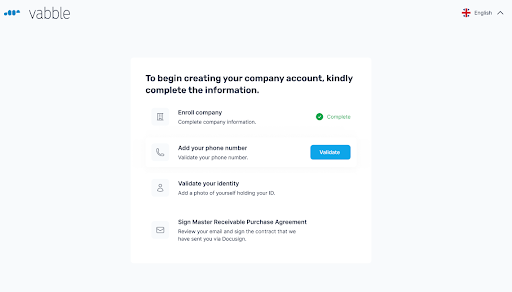 The improvements include:
Country specific customisations in the onboarding process. For example, an exporter from Peru entering their tax ID (called the RUC or Registro Único del Contribuyente), is now automatically checked for matching a genuine RUC in the government database.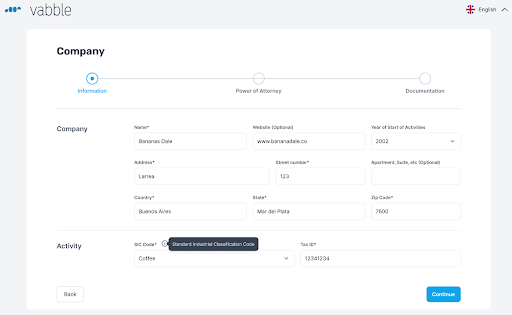 KYC and KYB are included, which helps increase the security of the platform. Onboarding with KYB is usually a laborious process, similar to what opening a bank account online can be. As there's a lot of documentation to upload, vabble's customer support group usually had to be the one to assist clients throughout the process. However, our new onboarding process is a lot more intuitive and purpose led, which should mean fewer people will drop out at the sign up stage.
It's a lot more user friendly, and a big improvement on how Latam banks onboard businesses. In principle, there are no hard copies of documents to deal with – everything is digital, and we use various leading AI and tool such as Docusign to handle the review of documents, and signing of the master framework agreement.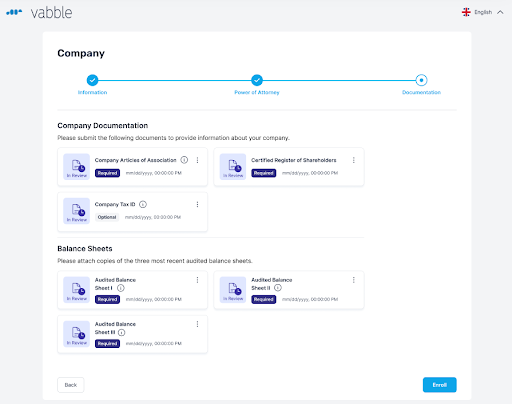 We have also set up 2-factor authentication.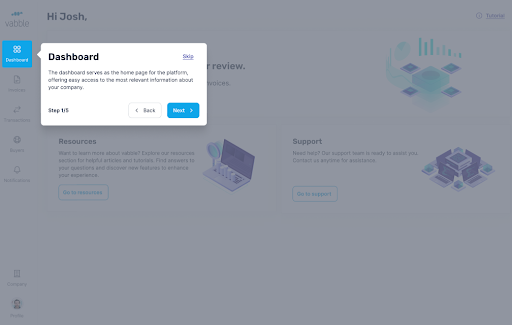 Following, the interactive wizard takes exporters through each part of the platform, with an assisted tooltip explaining how to use it. This makes it easier to understand the platform from the beginning, and ensures the user journey is simpler and more straightforward
Funding: finalising the current round
When it comes to funding, we are making good progress towards getting closer to the finalisation of the current round.
We have secured a bit more than half of the round with indications of interest. We are currently having conversations with a handful of potential investors to lead and price the round. At the same time, we have been raising funds as advance subscription, convertible to equity in a priced round, i.e., via SeedFast, from partners and investors.
The funds raised in our round will go towards growing the business, marketing, and continuing to develop strengthening cybersecurity measures, and enhancing our AI/automation infrastructure.
Recognition: some examples of the interest and support shown to vabble by others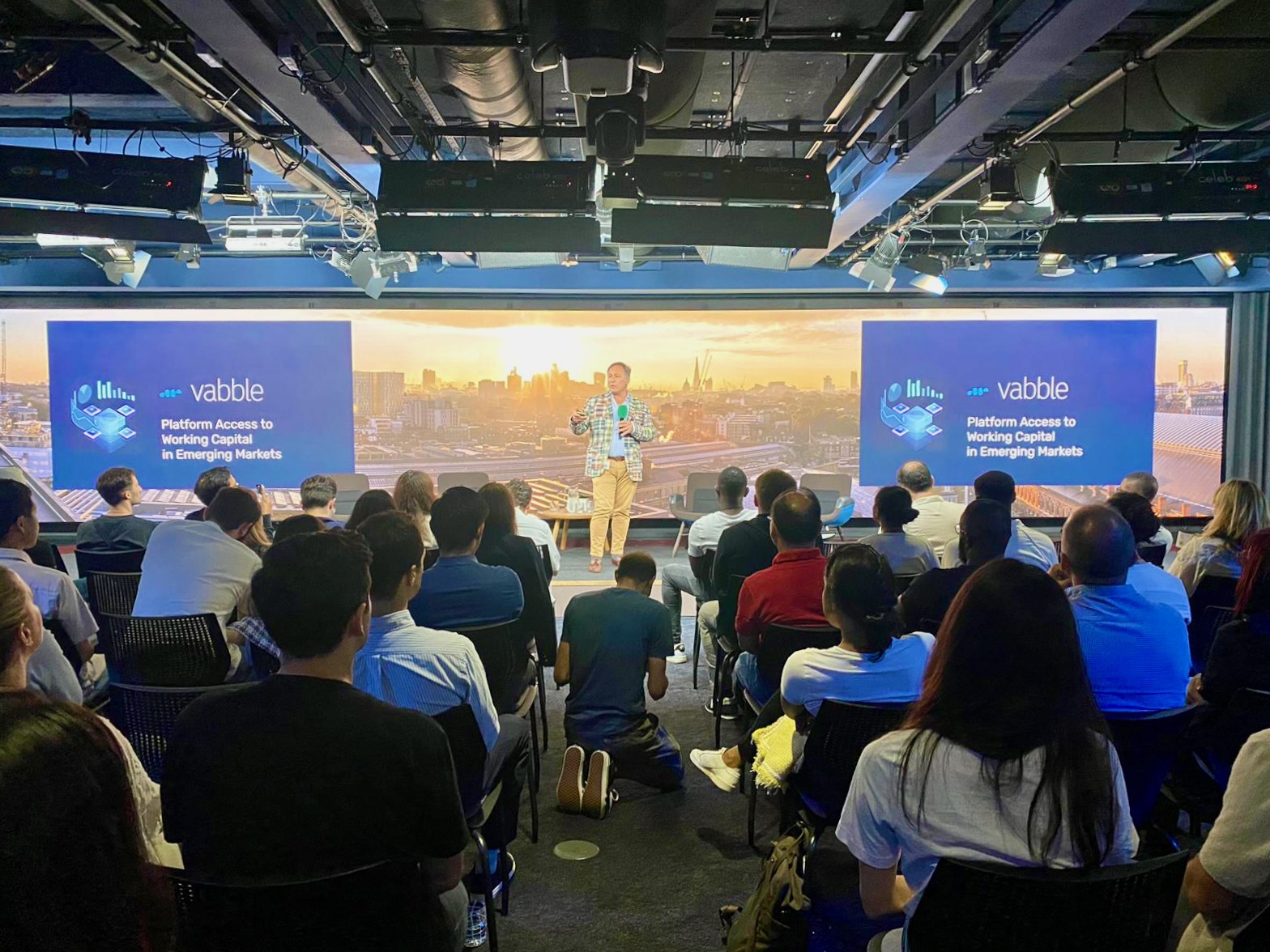 We're so happy to see the different ways vabble is being recognised by others in trade finance, fintech and business in general, so we wanted to share some recent examples.
Simon Taylor, the man behind Fintech Brainfood, kindly included vabble as a key trade finance fintech to watch in a recent edition of his newsletter: Fintech Brain Food: The future of money . Simon's newsletter is one of the most widely read newsletters on the fintech industry, with 32,000+ subscribers including VCs, investors and fintech operators.
We wrote a response to another of his newsletters, in which he talked about how fixing trade finance could have a big impact on the world. Read more in this article: Why trade finance is the next big opportunity in fintech.
We're also excited by initiatives and opportunities such as:
Looking to the start of trading and beyond
We've explained in this article what an exciting time this is for everyone at vabble, with:
An important new addition to the team
Various product developments
Another round of funding in progress
Some great examples of recognition and interest in the company
Being ready to run those first test transactions and then move into the start of trading is what everyone on the team has been working towards, and we're thrilled that we're almost there.
We're also truly excited about the opportunities that lie ahead. What we're doing hasn't been done before – we're breaking new ground and we're committed to delivering exceptional value to our clients and stakeholders.
To learn more about investing in vabble, email investors@vabble.io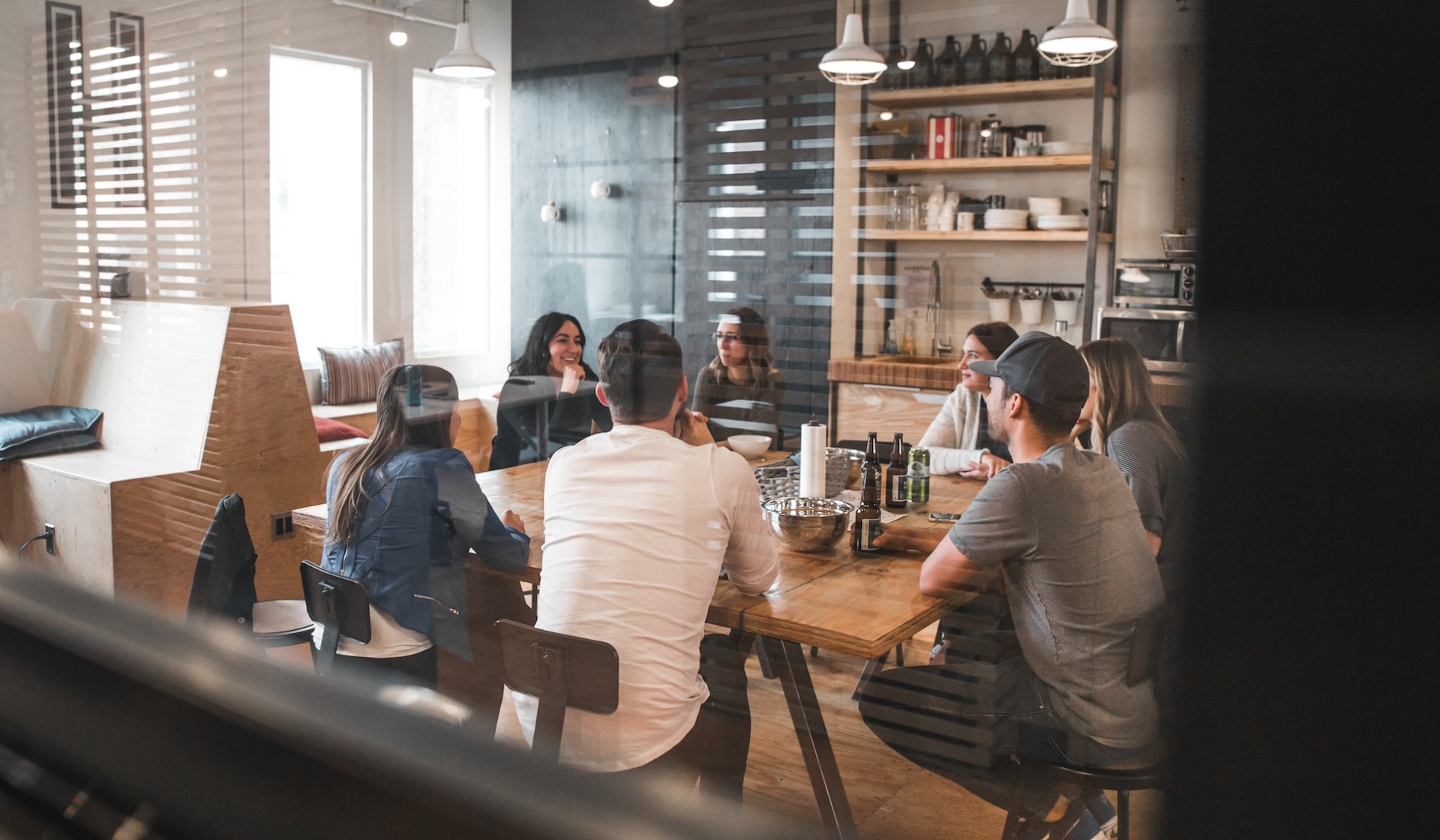 5/17/2023 - vabble team -
4/3/2023 - vabble team - finance, vabble, investment