vabble FinTech attracts Goldman Sachs Tech MD veteran. "It's just the right time for this"
Simon Knowles (Goldman Sachs Asset Management Technology MD), with over 20+ years asset management tech experience, is joining vabble as partner and member of the leadership team.
Simon Knowles (Goldman Sachs Asset Management Technology MD), with over 20+ years asset management tech experience, is joining vabble as partner and member of the leadership team.
In this article, we talk to Simon to find out exactly why he feels this is the perfect time to get involved with vabble.
To learn more about investing in vabble, email investors@vabble.io
Simon's background: adding asset management technology experience to an already strong leadership team at vabble.
"I joined Goldman as a new graduate at the peak of the dot com boom in 2000. I don't regret anything about my Goldman career – it's a fantastic organization."
With a Computer Sciences degree from Manchester University, Simon knew he wanted to move to London to start his career in the capital, and that's exactly what he did once he graduated.
"As a technologist and software engineer, I have always enjoyed writing software for the people I work with; partnering with key stakeholders to drive business efficiency and growth." Throughout his career Simon has spent every day talking to and working with his key clients.
Over time, the scale, complexity and scope of the work increased, and with experience came more responsibility. "You very quickly move from delivering a feature, to becoming responsible for an application, then a suite of apps, then a platform, then a **global team.**"
Simon was promoted to Managing Director at Goldman Sachs in 2019.
Two years ago, the opportunity came up for Goldman Sachs to acquire the National Netherland Investment Partners firm (NNIP) based in The Hague.
Since vabble is working closely with NNIP, it's the GS acquisition that brought Simon together with Pablo Terpolilli, vabble co-founder and CEO.
Being at the intersection of asset management and technology at Goldman gave Simon a unique set of skills: he learnt how to automate and scale complex workflows while coordinating and cooperating within the corporate world.
These skills are perfect for his next role in a different company: vabble.
Why Simon is joining vabble? "I got very excited and interested"
"From the first conversation with Pablo his vision to connect Emerging Market receivables with Institutional Investors made sense to me. I got very excited and interested. I am a big believer in fate and embracing new opportunities as they arise."
Timing, the technology and the company culture are the three key reasons Simon decided to join vabble. Let's look at these in more detail.
Timing: high demand, high yield and increase in global trade
"In life - timing is everything," Simon said. "It just feels like the time is right for what Pablo is trying to create. It's really at the crossroads of a lot of different macro themes that are happening in the market."
Why is the timing for vabble so perfect? The first factor is high demand. "From an asset management standpoint, there's an appetite for more private credit investment. Institutional investors are looking for returns away from the traditional equity/bond market; especially investment grade, high-yield investments. vabble plays in that space."
(If you're new to the trade finance space, we recommend you read our founding story: Exporters need financing and institutional investors need good investments. Here's how we're connecting the two )
Also important among socially-conscious investors is the environmental, social and governance aspect. "There's a social aspect to it," Simon said, "because you're helping the emerging markets, you're helping other parts of the world economy to catch up, and also helping small and medium businesses."
"You then have the increase in global trade off the back of the pandemic and before, plus the trade finance gap where lots of small and medium businesses aren't getting the trade finance they need from banks. There needs to be some disruption in the market."
And this is where vabble comes in, with the right model and the opportunity to scale and go anywhere in the world.
Why is the opportunity for trade finance now and not, say, 10 years ago? "I think the main reason why asset managers haven't done trade finance in the past is a lack of transparency." Simon explained.
"As an asset manager, you want to know what you're investing in. You can't buy something if you don't know what's behind it. And in a world where trade finance is all paper based, to try and apply any filtering or screening on top of the invoices that you've purchased is very time consuming. The trade finance ecosystem is pushing heavily towards a digitised and automated world, where all the information is digitally available and transparent to the investor. This is precisely what the vabble platform provides."
Everything vabble captures and uploads is digitised. You therefore have full transparency to the buyer's side industry on which companies are part of the SPV, and this means you can automate the second screening, KYC and AML checks.
To summarise, the timing is right for a few reasons:
There's high demand for private credit investment.
This type of investment is high yield.
There's an environmental, social and governance aspect that socially-conscious investors will appreciate.
There's been an increase in global trade over the past few years.
The tech allows for full transparency to the buyer.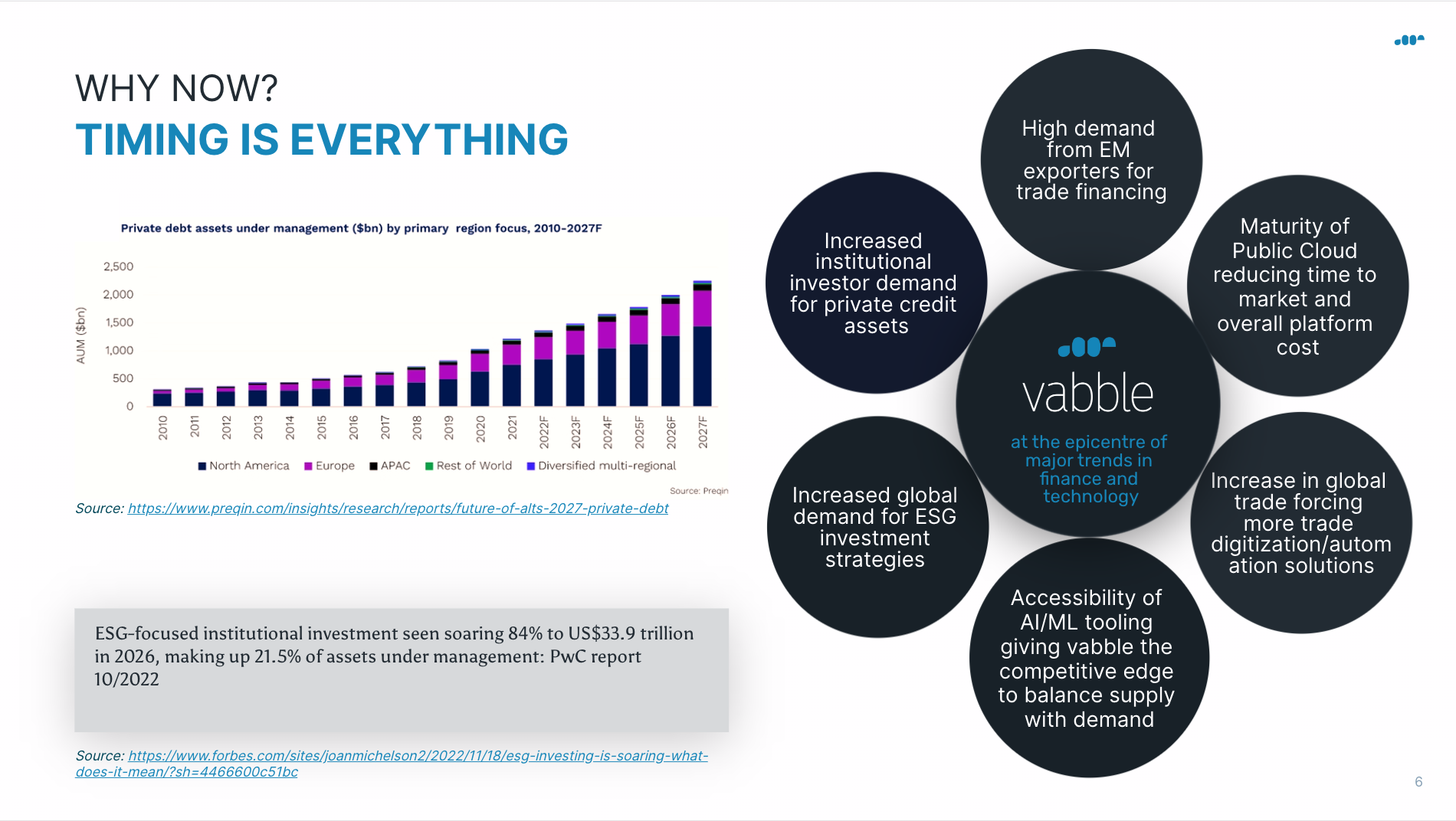 And unsurprisingly, given Simon's background, the technology is another part of what attracted him to vabble.
Technology: "vabble is well positioned to capitalize on this technology wave"
The great thing about vabble's technology is that it's not trying to solve new problems. As Simon says, "We're not trying to invent anything that's brand new, or needs research and development time to get right."
"For me as a technologist, that's perfect, because Pablo already knows exactly what he needs. The vision is set and the team is in full execution mode."
vabble has a highly motivated and collaborative technology team with a well designed data model and modern tech stack creating a neobank-like experience for Trade Finance. Simon's experience of building similar platforms for institutional investor clients at Goldman will only enhance this.
It is an exciting time to be a Technologist with public cloud adoption making it quick and easy to get to market coupled with the maturity of blockchain, artificial intelligence and machine learning. vabble is well positioned to capitalize on this technology wave in order to bring a scaled platform to the vabble clients.
To learn more about our technology and how it helps to set us apart read our article: How our people, technology and capital make us different .
Company: "I put a lot of faith in the founding fathers of vabble"
Finally, Simon explains that timing and technology wouldn't mean anything if it wasn't for the excellent team vabble has, calling out Pablo Terpollili (CEO/Founder), Derek Hudson (co-founder, director and Chief Commercial Officer), and Francesco Baldanza (director and strategic investor) in particular.
"Those three people have 50 years experience with trade finance, and they know the legal process, they know the framework and they know how to get vabble right," Simon said. "I put a lot of faith in the founding fathers of vabble. All of that background and experience is very, very hard to replicate."
The reputation and connections Pablo, Derek and Francesco have are what has helped vabble to secure partnerships with:
Tradeteq: To connect with institutional investors.
JP Morgan: To enable payments, collections and reconciliation.
"In 18 months, Pablo has been able to get the number one people involved in what he's trying to build. It's all about the relationships and the trust and the history," Simon added.
And from Simon's point of view, much of what Pablo is trying to achieve is what Simon himself has had experience of with Goldman: putting together a global team, building a platform and taking a concept from inception through production and beyond.
On Pablo himself, Simon is impressed, citing in particular his honest, transparent, upfront approach to business. "He's not particularly guarded about what he's trying to do. He's happy to share, to open up and get input and early feedback," Simon commented, echoing colleague Colleen Connors almost word for word.
Learn more about the vabble culture in this article: vabble's Unique Culture DNA: Transparency and Talent .
Combining Pablo, Derek and Francesco's experience and reputation in the finance industry with a transparent and flexible approach to business is a big part of what makes vabble an appealing company to join.
What Simon hopes to achieve at vabble: helping to create a robust platform
Simon is confident that his experience will allow him to bring a lot of useful insight to the vabble leadership team.
Simon's has been on the lookout for trade finance trends over recent months, and he knows now is a good time to take this opportunity. With vabble, it feels right – and that goes for the timing, the technology and the company itself.
Simon is joining vabble at the perfect time to make a big impact in a time of huge possibilities for the company. With his vast experience in asset management technology, we know he'll prove to be another valuable member of the vabble leadership team, and we're thrilled to have him on board.
For more about how Pablo built the vabble team, read: vabble's Unique Culture DNA: Transparency and Talent .
To learn more about investing in vabble, email investors@vabble.io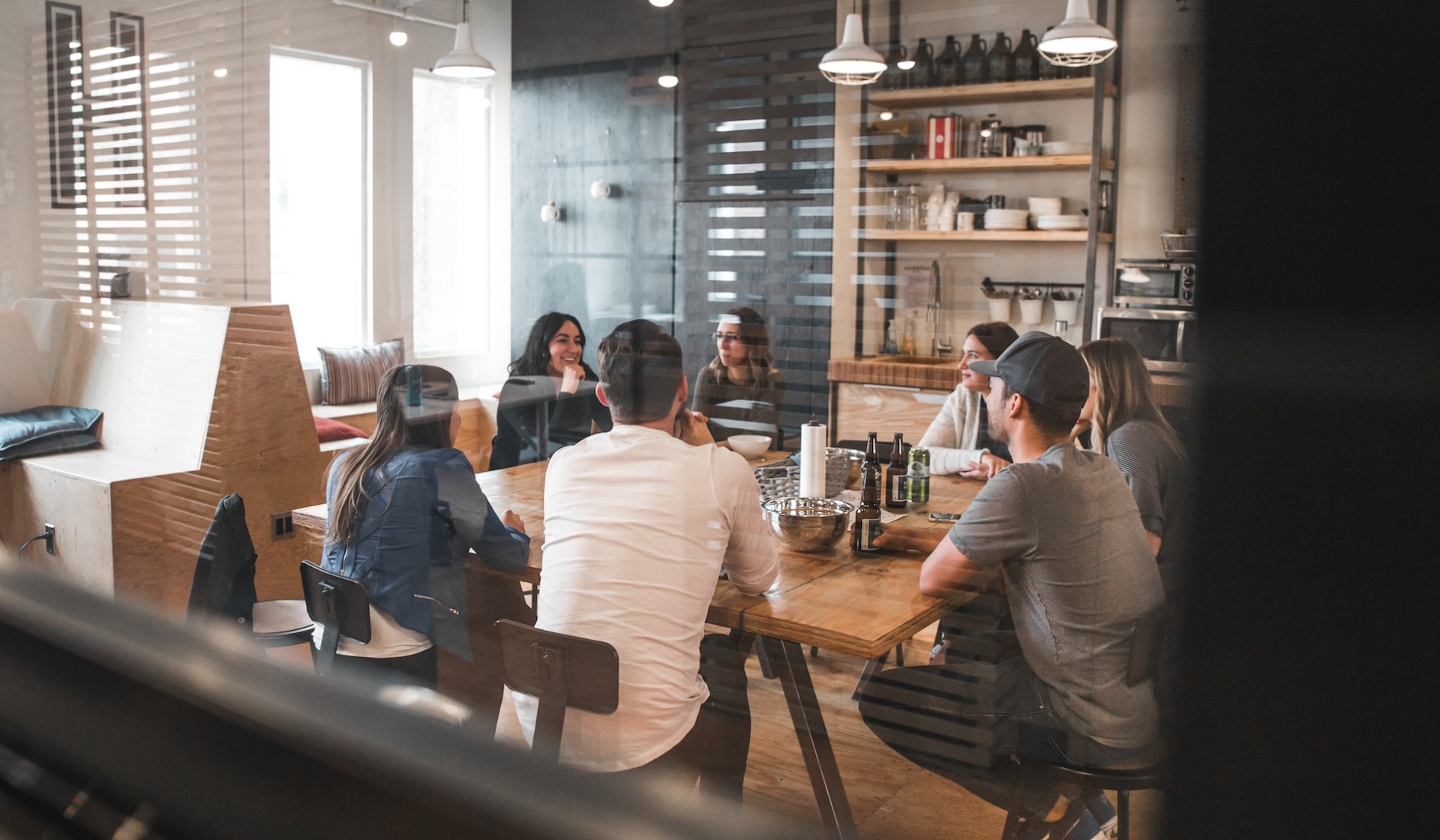 5/17/2023 - vabble team -
4/3/2023 - vabble team - finance, vabble, investment